the big project schedule
how to make space to do THE CREATIVE WORK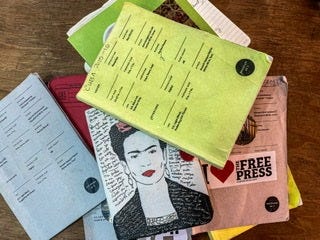 at home with my many journals at my writing desk
I used to be on the road more days than not, in taxis at 4 am on my way to the airport, passing through airports on my way to Chile, Colombia, St. Vincent, Guatemala, Honduras, Cuba. Since I left Mérida, Mexico in early March, abandoning a workshop I was teaching that was interrupted by the pandemic, I've been at home. In some ways, this shift for me has been good because I'm now cooking, growing basil, running daily, and have finally set up a writing desk (no more writing in bed). I wanted to make space to spend a few hours a day working on a big project, and I've eased into this schedule which I find provides me the time and structure to think about more long-term work.
Daily schedule
*No internet, no news mornings from whenever I wake up (pandemic insomnia is real so I give myself a flexible wakeup) to 11am*
7-8 am
Wake up and write in my journal, whatever thoughts are floating around. Make coffee.
8-11 am
I either write at the computer or in a notebook depending on how I'm feeling.
11 am
Check and respond to email and other social media.
Noon - 5pm
Work on assigned articles, fact-checking, translations, editing for others.
*I make exceptions to this no internet schedule when I have assigned work due quickly and need to be in contact with editors. For example, yesterday I fact-checked an article for the New York Times, and I knew this morning that I would need to be available to respond to follow-up questions so as soon as I woke up, I checked my email.
escaping constant connection
I've found that starting my mornings with no internet and no news allows me to devote my energy to writing projects of my own. I spent a lot of time being outraged by the news and by how media outlets treat freelancers, but I've realized that I want and need to save that energy for my creative projects. In the long-term, protecting my creative energy for big projects is what I want to be doing. I grew up in the age before internet, but in my life as a freelance journalist, I've become accustomed to being constantly connected. Time for a change.
Embrace those big projects & the thrill of throwing yourself into the unknown,
Alice